Formula 2018-2019 F19 #13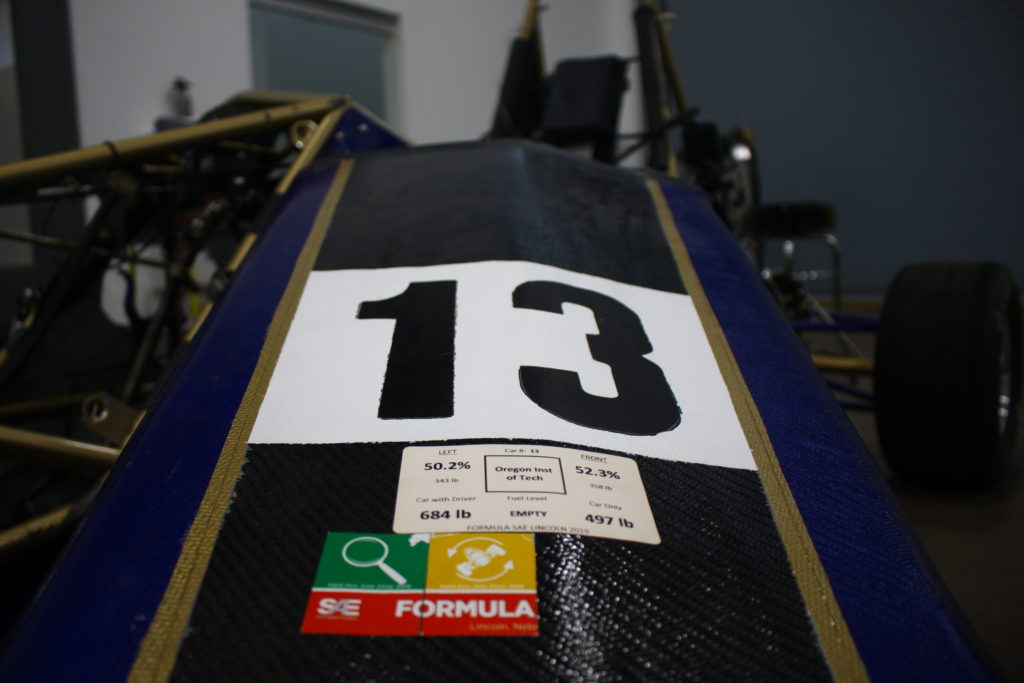 BRAKES: Floating front disks, Single diff mounted rear disk, twin pot Wilwoods (F&R) BSCD: 67mm/42.5mm/4/599cc
COOLING: Dual pass radiator
DRIVE: Chain drive, Drexler LSD ELECTRONICS: Performance Electronics PE3 ECU, AEM AQ1
ENGINE: 2016 Honda CBR600RR
FR/RR TRACK: 54in./42in.
FRAME: 4130 TIG Welded Spaceframe
FUEL SYSTEM: In tank pump with AEM external regulator
FUEL TYPE: 91 Octane Gasoline
SUSPENSION: Double unequal length A-arms, front direct acting, rear pushrod actuated
TIRE: 19.5×7.5×10 Hoosier R25B
GEAR CHANGE: Mechanical Paddle Shifters
WHEELBASE: 61.5 in.
AERO: F/R Multi Element Wings
DRY WEIGHT: 497lbs
Formula 2016-2017 F17 #34
BRAKES: Floating front disks, Single diff mounted rear disk, twin pot Wilwoods (F&R) BSCD: 67mm/42.5mm/4/599cc
COOLING: Dual pass radiator
DRIVE: Chain drive, Drexler LSD ELECTRONICS: Performance Electronics PE3 ECU
ENGINE: 2007 GSXR600
FR/RR TRACK: 50in./48in.
FRAME: Steel Tubular Space Frame
FUEL SYSTEM: In tank with student designed regulator
FUEL TYPE: 91 Octane Gasoline
MPD: 90 HP (12,000)
MPT: 46 lb-ft (10000)
SUSPENSION: Double unequal length A-arms, pullrod actuated, anti roll bars
TIRE: 18.0×7.5×10 Hoosier R25B
GEAR CHANGE: Sequential Lever Shift
WHEELBASE: 61.5in.
AERO: F/R Wings
DRY WEIGHT: 475lb
Formula 2015-2016 F16 #18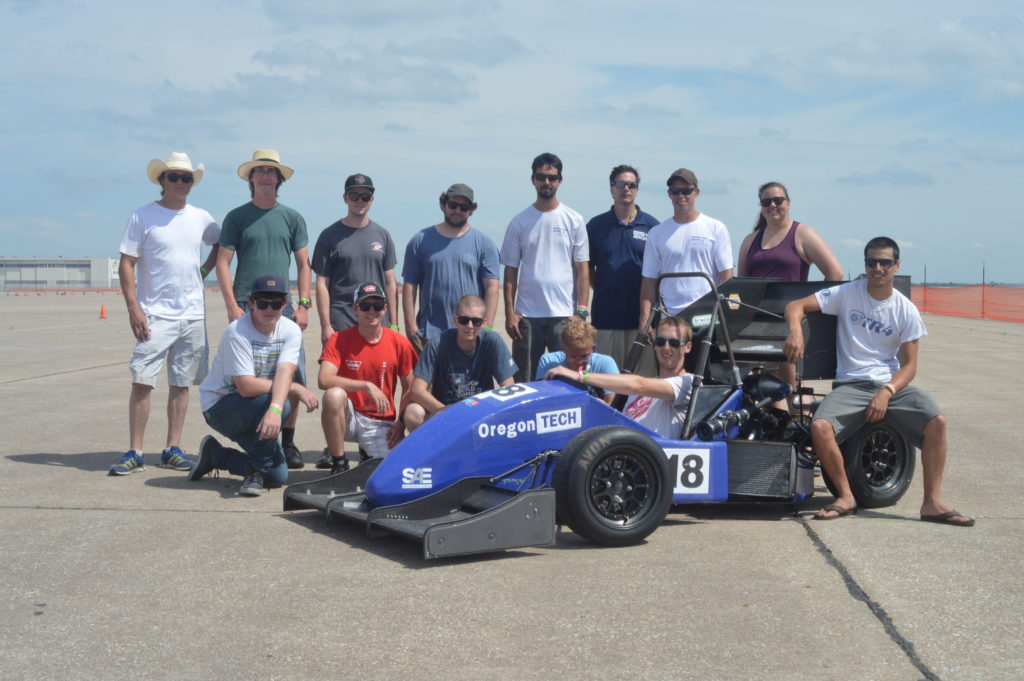 Formula 2014-2015 F15 #40

BRAKES: Floating front disks, Single diff mounted rear disk, twin pot Wilwoods (F&R) BSCD: 67mm/42.5mm/4/599cc
COOLING: Electronic water pump, stand alone oil pump, dual pass radiator
DRIVE: Chain drive, Torsen diff, student designed aluminum housing and shift barrel ELECTRONICS: Performance Electronics PE3 ECU
DATA ACQUISITION: Tire temp, brake temp, brake pressure, lateral and longitudinal acceleration, in-dash real time display
ENGINE: 2007 GSXR600
FR/RR TRACK: 49in./48in.
FRAME: Steel Tubular Space Frame with forward facing roll hoop supports
FUEL SYSTEM: In tank with student designed regulator
FUEL TYPE: 91 Octane Gasoline
MPD: 90 HP (12,000)
MPT: 46 lb-ft (10000)
SUSPENSION: Double unequal length A-arms, pullrod actuated, anti roll bars
TIRE: 20.5×7.5×13 Hoosier R25B
GEAR CHANGE: Mechanical Paddle Shifters with no lift upshift
WHEELBASE: 63in.
AERO: Semi-floating undertray
DRY WEIGHT: 460lb est.
POSSIBLE FEATURES: Fully electronic shifting, turbo engine, carbon fiber wheel centers
_____________________________________________________________________
Formula 2013-2014 #45 Car
BRAKES: Floating front disks, Single diff mounted rear disk, twin pot Wilwoods (F&R) BSCD: 67mm/42.5mm/4/599cc
COOLING: Electronic water pump, stand alone oil pump, dual pass radiator
DRIVE: Chain drive, Torsen diff, student designed aluminum housing and shift barrel ELECTRONICS: Performance Electronics PE3 ECU
DATA ACQUISITION: Tire temp, brake temp, brake pressure, speed and wheel slip, lateral and longitudinal acceleration, in-dash real time display
ENGINE: 2007 GSXR600
FR/RR TRACK: 49in./48in.
FRAME: Steel Tubular Space Frame with forward facing roll hoop supports
FUEL SYSTEM: In tank with student designed regulator
FUEL TYPE: 91 Octane Gasoline
MPD: 90 HP (12,000)
MPT: 46 lb-ft (10000)
SUSPENSION: Double unequal length A-arms, pullrod actuated, anti roll bars
TIRE: 20.5×7.5×13 Hoosier R25B
GEAR CHANGE: Mechanical Paddle Shifters with no lift upshift
WHEELBASE: 63in.
AERO: Floating front and rear active wings, semi-floating undertray
DRY WEIGHT: 475 lb est.
_____________________________________________________________________
Formula 2012-2013 #32 Car : OTR3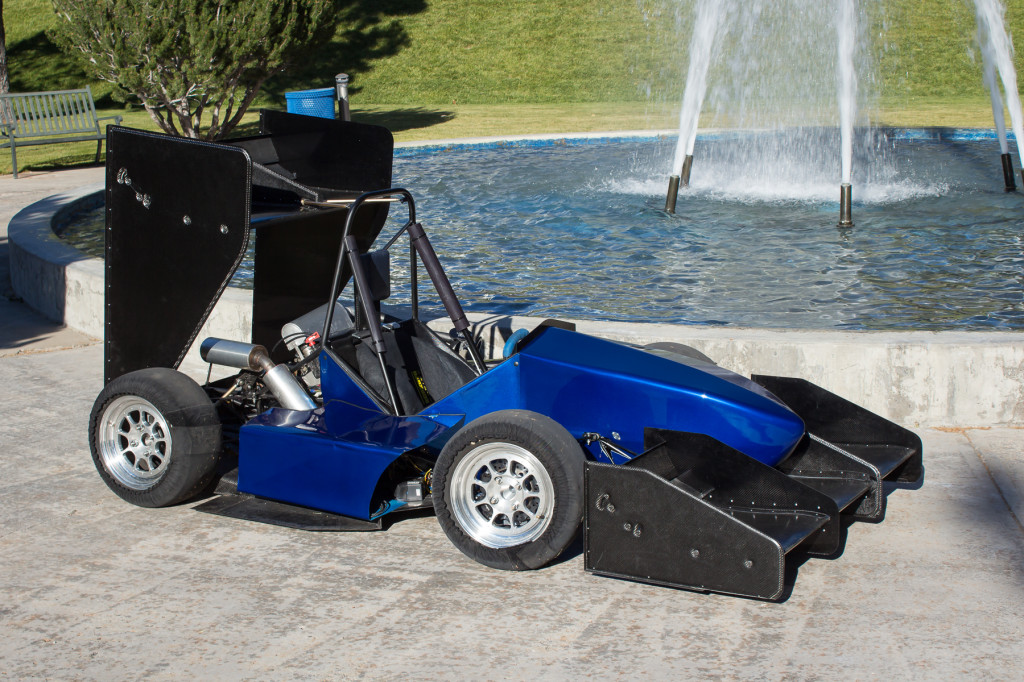 BRAKES: Floating front disks, Single diff mounted rear disk, twin pot Wilwoods (F&R)
BSCD: 67mm/42.5mm/4/599cc
COOLING: Side pod mounted dual pass radiator
DRIVE: Chain drive, Torsen diff, student designed aluminum housing and shift barrel
ELECTRONICS: Performance Electronics PE3 ECU
DATA ACQUISITION: Tire temp, brake temp, brake pressure, speed and wheel slip
ENGINE: 2007 GSXR600
FR/RR TRACK: 48in./48in.
FRAME: Steel Tubular Space Frame with forward facing roll hoop supports
FUEL SYSTEM: In tank with student designed regulator
FUEL TYPE: 91 Octane Gasoline
MPD: 90HP (12,000)
MPT: 46 lb-ft (10000)
SUSPENSION: Double unequal length A-arms, pullrod actuated, anti roll bars
TIRE: 20.5×7.5×13 Hoosier R25B
GEAR CHANGE: Mechanical Paddle Shifters with no lift upshift
WHEELBASE: 62in.
AERO: Front, rear and undertray
DRY WEIGHT: 495 lb

_____________________________________________________________________
Formula 2011-2012 #43 Car : OTR2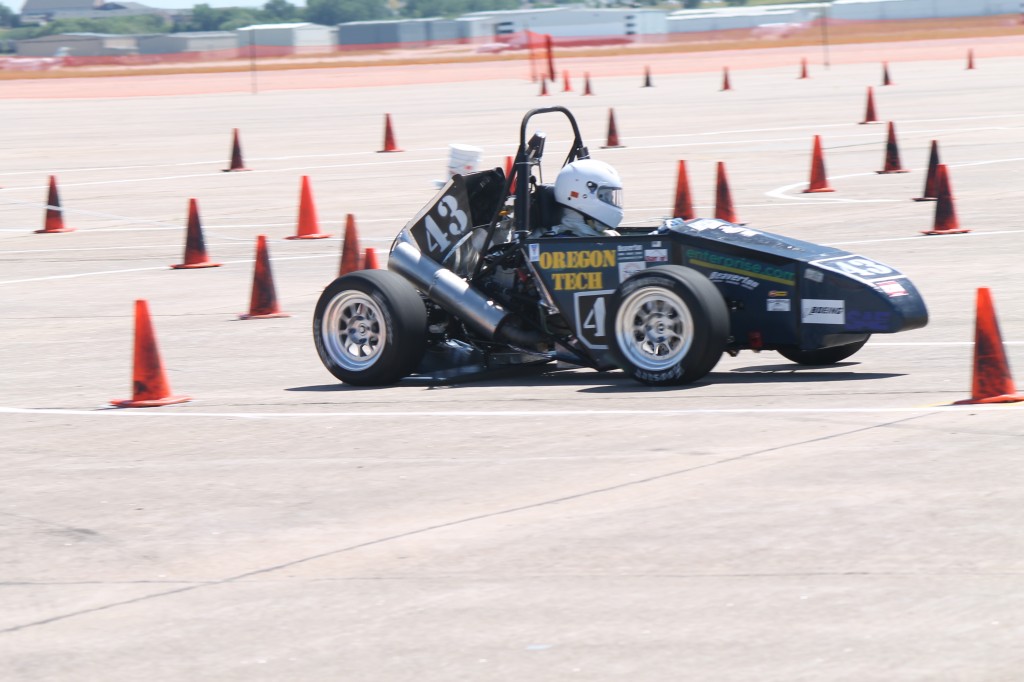 BRAKES:Floating front disks, Single diff mounted rear disk, twin pot Wilwoods (F&R)
BSCD: 67mm/42.5mm/4/599cc
COOLING: Rear mounted radiator
DRIVE: Chain drive, Torsen diff
ELECTRONICS: Performance Electronics PE3 ECU
ENGINE: 2007 GSXR600
FR/RR TRACK: 48in./48in.
FRAME: Steel Tubular Space Frame
FUEL SYSTEM: External inline fuel pump with pressure regulator
FUEL TYPE: 91 Octane Gasoline
MPD: 90HP (12,000)
MPT: 46 lb-ft (10000)
SUSPENSION: Double unequal length/non-parallel A-arms, pullrod actuated
TIRE: 20.5×7.5×13 Hoosier R25B
GEAR CHANGE: Mechanical Paddle Shifters
WHEELBASE: 64in.
DRY WEIGHT: 525 lb
_____________________________________________________________________
Formula 2010-2011 #50 Car : OTR1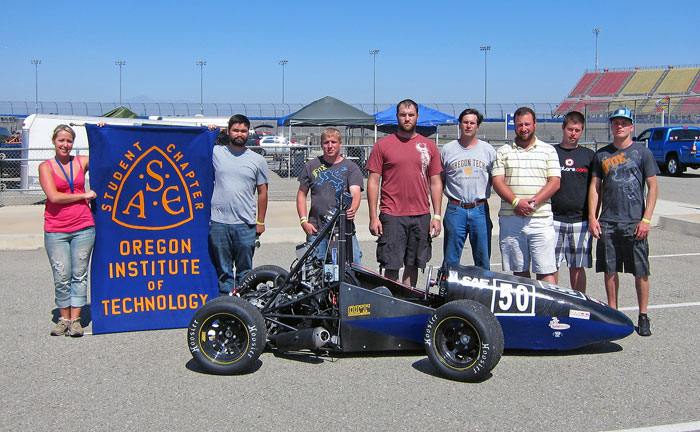 BRAKE:Twin axle mounted inboard calipers/disks
BSCD: 67mm/42.5mm/4/599cc
COOLING: Side mounted GSXR radiator
DRIVE: Chain drive, Torsen diff
ELECTRONICS: Powercomander III
ENGINE: 2005 GSXR600
FR/RR TRACK: 63in./62in.
FRAME: Steel Tubular Space Frame
FUEL SYSTEM: In tank GSXR pump
FUEL TYPE: 91 Octane Gasoline
MPD: 85HP (12,500)
MPT: 46 lb-ft (10000)
SUSPENSION: Double unequal length/non-parallel A-arms,
pullrod actuated, pushrod rear
TIRE: 20.5×6.0x13 Hoosier R25B
GEAR CHANGE: Mechanical Paddle Shifters
WHEELBASE: 64 in.
DRY WEIGHT: 645 lb